Terms and Conditions
---
Introduction
By accessing or using this site, you (the "Customer" indicate your unconditional acceptance of these Terms of use (the "Terms of Use"). We reserve the right, in our sole discretion, to update or revise these Terms of Use. Your continued use of the site following the posting of any changes to the Terms of Use constitutes acceptance of those changes. When you purchase items on our site you enter into a binding agreement which is governed by the Terms of Use.
This website is governed by the laws of South Africa and Skullies chooses as it's domicilium citandi et executandi for all purposes under this agreement, whether in respect of court process, notice or other documents or communication of whatsoever nature.
---
Minimum Requirements
To place an order on the website, you are confirming that you are of the legal capacity to enter into a contract with Skullies (Owner of the site). (and that you are of the correct age, have authority to use the credit card etc.).
---
Effect
These Terms of Use shall prevail over any separate terms put forward by you. Any conditions that you submit, propose or stipulate in whatever form and at whatever time, whether in writing, by email or orally, are expressly waived and excluded. No other terms or changes to the Terms of Use shall be binding unless agreed in writing signed by us.
---
Sales and Pricing
Upon receipt of payment all "terms and conditions" listed are deemed final and binding.
Final checkout prices shown are inclusive of taxes and delivery and are normally representative of the total that you will pay for the ordered Product. You agree to pay the shown price for the products selected. 
Skullies reserves the right to change prices at any time until such a time as they issue an "Acceptance of Order" notice. If the total price differs to what was shown at checkout you reserve the right to ask for a full refund instead of paying the difference. Your Order remains valid as an offer until we issue our Acceptance of Order. We shall not be under any obligation to supply the Product to you until we have accepted your Order. Unless expressly stating that we accept your order, an email, letter, fax or other Confirmation of your Order by us is purely for information purposes and does not constitute the Acceptance of Order. Delivery of the Order also constitutes the Acceptance of Order.
Prices on the Site: Website URL to be confirmed are in South African Rand unless otherwise indicated.
Card transactions will be acquired for Skullies via PayGate (Pty) Ltd who are the approved payment gateway for all South African Acquiring Banks. DPO PayGate uses the strictest form of encryption, namely Secure Socket Layer 3 (SSL3) and no Card details are stored on the website. Users may go to www.paygate.co.za to view their security certificate and security policy.
You shall pay for the Product in full at the time of ordering by supplying us with your credit or debit card details from a credit card company acceptable to us, which we require in order to process your Order. Alternatively, you may pay by any method that we have said is acceptable to us, but in any event we shall not be bound to supply before we have received cleared funds in full. We reserve the right to perform a credit check and to reject/not to offer certain forms of payment and to refer you to our other forms of payment. 
We may ask for further proof that you are fully entitled to use a card (or other form of payment) that you have used to purchase the Products before releasing your Product. 
It is your responsibility to ensure that all details you have supplied us are correct and continue to be accurate. Any costs that may arise out incorrect details will be for the Customer's account.
If you realize that you have made a mistake with your Order after you have completed the checkout process, please contact orders@skullies.co.za immediately. However, we cannot guarantee that we will be able to accept any changes to your Order in accordance with your instructions. 
In cases where there are more than one item on your Order, we reserve the right not to supply some Items that make up your complete Order. In such a case we will only refund you for the items that are not available.
---
Delivery & Returns
We aim to deliver the Product to you at the place of delivery requested by you during checkout.
We aim to deliver the item to you as quickly as possible. Due to the substantial discounts we offer our delivery times are slightly longer. Our suggested delivery times can be found on the Orders & Delivery tab. Delivery times may vary depending on the Event that is running or the Items ordered.
We shall aim to let you know if we expect that we are unable to meet our estimated delivery date, but, to the extent permitted by law, we shall not be liable to you for any losses, liabilities, costs, damages, charges or expenses arising out of late delivery. 
On delivery of the Product, you may be required to sign for delivery. You agree to inspect the Product for any obvious faults, defects or damage before you sign for delivery. You must keep the receipt of the delivered product if you want to discuss the item further with us. 
Please note that it might not be possible for us to deliver to some locations. If this is the case, we will inform you using the contact details that you provide to us when you make your order and arrange for cancellation of the Order or delivery to an alternative delivery address. 
All risk and ownership of the Product shall pass onto you on delivery of the product. If you are not available to take delivery at the address you supplied (or delivery has not been able to take place by your fault) all risk and ownership will be passed to you from the time delivery was originally intended. From this point on Skullies is no longer liable for any loss or damage to the product. 
Any damage incurred when opening the product is your fault and Skullies will not be liable. Please take care when using sharp objects. 
If you are not available to take delivery or collection, we may leave a card giving you instructions on either re-delivery or collection from the carrier. Costs for redelivery may be passed onto you.
At any stage during the delivery process, until you take delivery of the goods, Skullies may choose to cancel the order. 
We do not warrant that products will suit your individual needs. We sell products without consideration for their end use. 
If you feel you wish to return a product please consult of returns policy which can be found on the site. Returns may be accepted for two reasons: customer decision or faulty product.
Return Window: Customers have 14 days from the date of delivery to return items to Skullies. If the 14 days fall over public holidays, Skullies will extend the return window to 20 days from the date of delivery.
Skullies reserves the right to change the returns policy at any stage without warning. It is the customer's responsibility to ensure that they are aware of the returns policy at checkout.
---
Turnaround
For international orders:
Stock and custom Skullies will be completed and ready to ship 3 months from the date of payment and confirmation of Skullies orders.
RSA orders:
Stock Skullies have a 21 day turnaround period from the date full payment reflects into Skullies bank account.
Custom Skullies will be completed and ready to courier 3 months from the date of payment and confirmation of Skullies order.
Shipping or courier service is for the client's account and not included in price.
Skullies is not responsible for goods in transit to, or from our premises.
Prices are subject to change without prior notice.
Prices quoted and accepted will not fluctuate or change regardless of exchange rate.
Custom Skullies digital scanned file remains the property of Skullies.
All Skullies are hand-painted and finished, final product and finish may vary from skull to skull.
---
Cancellation
We reserve the right, for purpose of suspected fraud, to refuse to accept or process payment on any order, and/or to cancel any sale concluded between you and Skullies, in whole or in part, if the Product is not available for any reason. We will notify you if this is the case and return any payment that you have made, and accept no liability which may arise as a result of such refusal to process any order/sale.
We will usually aim to refund any money received from you using the same method originally used by you to pay for the product.
If fraud is suspected we may choose not to refund the payment but rather contact the police and relevant banking authority immediately. 
---
Force Majeure
Skullies shall not be liable for any delay in performing any of its obligations under these Terms of Use if such delay is caused by circumstances beyond the reasonable control of Skullies, and Skullies shall be entitled to a reasonable extension of time for the performance of such obligations.
---
Product Dead on Arrival
Our products will be delivered in a new or original condition unless specifically stated otherwise. If you feel the product that has been delivered is not in its original condition please reach out to our customer service team immediately via email at orders@skullies.co.za who will try to rectify the issue.
Please inspect the product before signing for delivery. If you sign for a product on delivery you are agreeing that you are happy with the obvious condition of the product that you have received.
---
Security
Any person that delivers or attempts to deliver any damaging code to this Site or attempts to gain unauthorised access to any page on this Site shall be prosecuted and civil damages shall be claimed in the event that Skullies suffers any damage or loss.
You agree and warrant that your log-in name and password shall be used for your personal use only and not be disclosed to any third party.
You allow Skullies to take all reasonable steps to ensure the integrity and security of the Site and back-office applications.
All credit card transactions on the Site are secured by SSL (Secure Socket Layer) encryption and reinforced through various encryption processes in order to provide the most effective protection possible for all sensitive payment information. Skullies does not access any confidential information about your means of payment.
Skullies shall take all reasonable steps to protect the personal information of users. For the purpose of this clause, "personal information" shall be defined as detailed in the Promotion of Access to Information Act 2 of 200 (PAIA). The PAIA may be downloaded from: http://www.polity.org.za/attachment.php?aa_id=3569
---
Disputes
Disputes between you and Skullies may arise from time to time, and we will try to resolve these issues in an amiable manner.
---
Address for Notices
Skullies hereby selects '14 Uitenhage Road, North End, Port Elizabeth, South Africa', its address for the service of all formal notices and legal processes in connection with these Terms and Conditions ("legal address"). Skullies may change this address from time to time by updating these Terms and Conditions.
Notices must be sent either by hand, prepaid registered post, telefax or email and must be in English.
All notices sent -  by hand will be deemed to have been received on the date of delivery; by prepaid registered post, will be deemed to have been received 10 days after the date of posting; by telefax before 16h30 on a business day will be deemed to have been received, on the date of successful transmission of the telefax. All telefaxes sent after 16h30 or on a day which is not a business day will be deemed to have been received on the following business day; and by email will be deemed to have been on the date indicated in the "Read Receipt" notification.
ALL EMAIL COMMUNICATIONS BETWEEN YOU AND US MUST MAKE USE OF THE "READ RECEIPT" FUNCTION to serve as proof that an email has been received. Email address: orders@skullies.co.za
If you require a PO Box address please enquire with Skullies.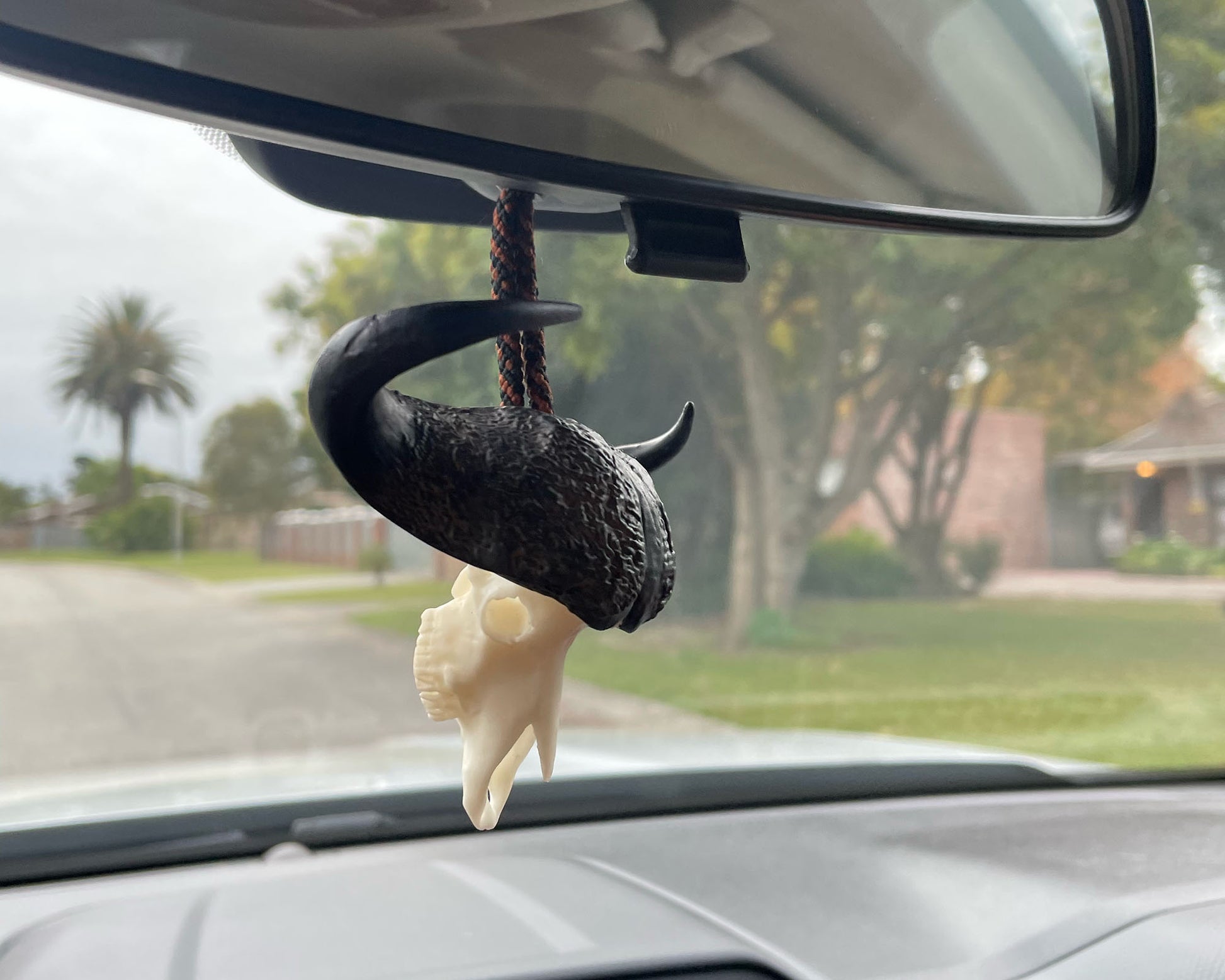 Mirror Hanging Skullies
Regular price
R 658.35 ZAR
Regular price
Sale price
R 658.35 ZAR
Unit price
per
Sale
Sold out
Share
View full details